People's Daily Overseas Edition-Financial companies clustered in QIECZ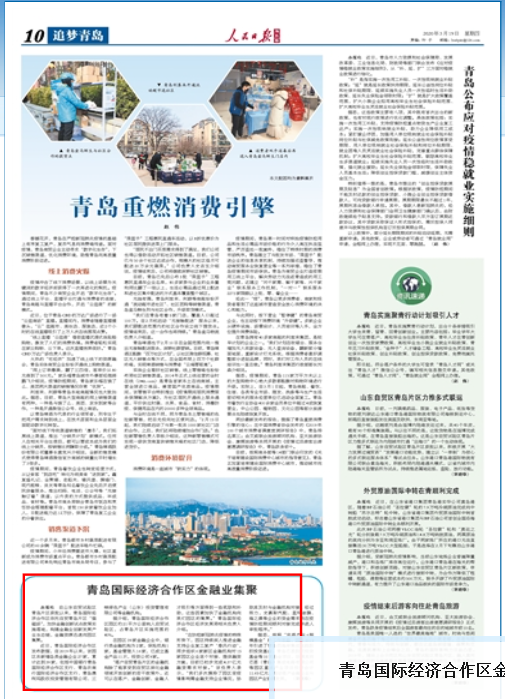 Since the establishment of the Qingdao Area of China (Shandong) Pilot Free Trade Zone, QIECZ has accelerated the implementation of pilot policies supporting financial innovation by leveraging strong traction of the area, to foster an industrial eco-chain. Thus numerous resources have been attracted to the Zone rapidly.
According to the data recently released by QIECZ, since 2019, 27 financial companies have entered the zone, bringing the tally to 39. Bank of China QIECZ Branch, Qingdao Rural Commercial Bank QIECZ Branch, Qingdao Aucma Equity Investment Management Co., Ltd., and Three Gorges Green Industry (Shandong) Investment Management Co., Ltd. are among the list.
According to sources, about 21 km2 of QIECZ has been included in the FTZ, accounting for 40% of the Qingdao Area.
Among the 39 financial companies, 2 are specializing in banking, 1 in insurance, and 16 in fund management. Eleven fund products and 9 investment firms have been established.
"Financial institutions in the Area are entitled to not only the policies for further opening-up in finance by the FTZ, but also incentives and subsidies in such areas as permanent residency, innovation, talent recruitment, etc., and thus, financial clusters in the Zone are taking shape rapidly," as introduced by an official from Economic Development Bureau of QIECZ.
"Under the special circumstances of epidemic control, the Zone has been implementing the Spring Breeze Plan which aims to provide financial support for work resumption of enterprises. We have organized 6 financial institutions in the West Coast New Area to provide one-on-one consultation and financing solution for 15 companies in the Zone, which preliminarily involves a total of 437 million yuan of financing support." According to the official in charge, "we have done several rounds of research on the financial needs of the enterprises due to the impact of the epidemic, and help them get timely contact with financial institutions. In this way, means have been found to address the financial needs of a number of companies including Actron Technology, Lanketu Membrane and Haizhichen, and they are now going through the procedures to get the official approval for such financing."
It is learnt that by adopting an approach that combines competitive industries with large-scale funds, the Zone has attracted 10 fund projects in 2019, including Qingdao West Coast New Area Integrated Circuit Equity Investment Fund and Qingdao SiEn Equity Investment Fund. Coordinated by the Zone, these funds have invested a total of 1,165 million yuan in key industrial projects in the zone such as SiEn (Qingdao) Integrated Circuit Co., Ltd., thus promoting synergistic development of finance and industry in the zone.