Qingdao Sino-German Ecopark Assisted with AHK Charter Flights Project
2023-03-07
Qingdao Sino-German Ecopark
At 13:30 on March 4, 2023, as Flight LH786 of Lufthansa charter flight from Frankfurt to Qingdao slowly landed at Qingdao Jiaodong International Airport, the Sino-German charter flight project since the outbreak of COVID-19 came to a successful end. Representatives of relevant units of Qingdao and German representatives jointly held a celebration ceremony at Qingdao Jiaodong International Airport. Mr. Geng Tao, member of the Standing Committee of the CPC Qingdao Municipal Committee and deputy mayor, attended the event and delivered a speech. Jens Hildebrandt, executive director & board member of the German Chamber of Commerce in China - North China, and Lisa Boeltzig, transportation counselor of the Economic General Office of the German Embassy in China, attended the event. The management committee of Qingdao Sino-German Ecopark was invited to attend the event and accept the thanking banner presented by the German Chamber of Commerce in China.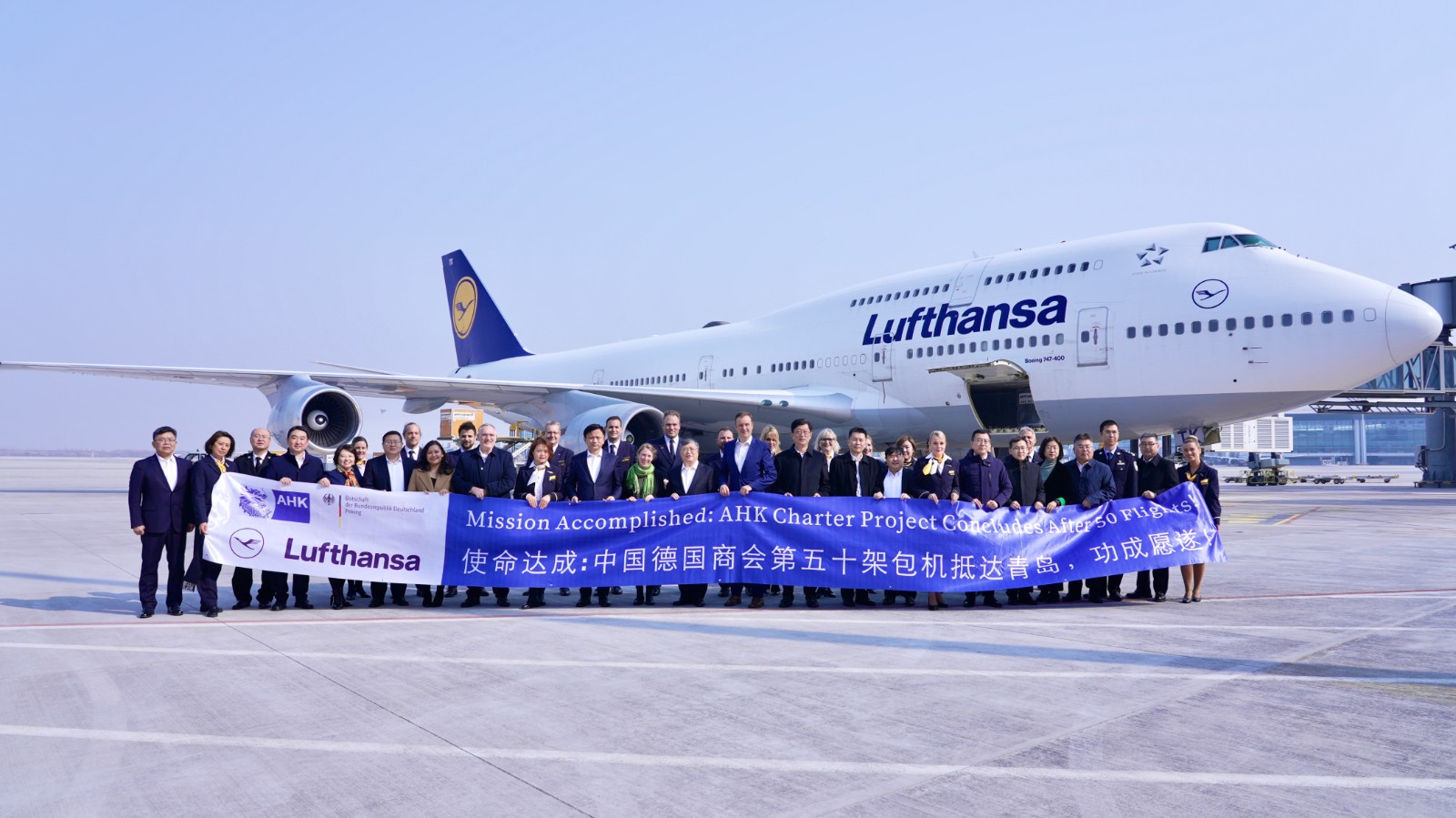 Since June 2020, Qingdao has undertaken the service guarantee work of charter flights from Frankfurt to Qingdao, namely the AHK charter flights between China and Germany. Qingdao has received 43 of the 50 (accounting for nearly 90% of the whole) charter flights organized by the German Chamber of Commerce in China. A total of more than 8700 enterprise executives, employees and family members, from Volkswagen, Siemens and other Fortune 500 companies, have entered China through Qingdao by the the charter flight project, which has transmitted the warmness of Qingdao and maintained the stability and safety of the industrial chain and supply chain. Thanks to the charter flight project and in order to build an efficient platform for enterprises from both the two countries, Qingdao and Germany have jointly organized a series of activities in the past 3 years, such as "Xplore China – Delegation Trip to Qingdao" and "Qingdao and German Enterprises: Industrial Chain Cooperation and Exchange Conference".
Under the arrangement of the whole city, Qingdao Sino-German Ecopark, which is an ecological park jointly built by China and Germany and gathers the most German-speaking talents in Shandong Province, has sent personnel to participate in the service guarantee work of the charter flights for many times, which has won the full recognition and praise from relevant institutions, enterprises and passengers of both China and Germany.